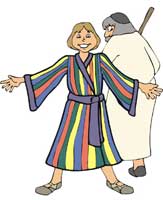 I saw this wonderful craft today to help children learn about the story of Joseph and his colorful coat. It uses a paper bag and lots of colorful paper and odds and ends to replicate the wonderful coat that Joseph must have worn.
I am always looking for crafts and activities to bring the Bible to life, and this craft was an excellent way to do just that! Go
here
for a great tutorial!
Photo Credit
While we're at it, here are several great coloring pages for kids to use who are learning about Joseph and his coat of many colors.
Try
here
,
here
, and
here
.
Oh yes, and if you don't know this wonderful Bible story, then read on! Joseph, eleventh son of Jacob, was given a coat of many colors, which his brothers took as a sign to show their father's favor. Joseph then had dreams which told him that he would assume leadership and even his brothers would bow down to him. In a jealous rage, his brothers threw him into a pit and later sold him into slavery to a passing group. The brothers then dipped Joseph's coat in goat's blood and told their father that he had been slain. Instead, Joseph had been sold into slavery in Egypt and worked very hard to continue in God's favor by being a faithful servant to Him.
While he was in Egypt, Pharaoh sent for Joseph because he had some dreams which he could not understand. Joseph told him that there was a hard time coming for Egypt and that the Pharaoh should begin to prepare. Pharaoh was happy and he let Joseph go free. Pharaoh asked him to stay and help him to prepare for the hard time to come, which Joseph agreed to do. Thanks to Joseph and his faithful reliance upon God's word, Egypt did not go hungry.